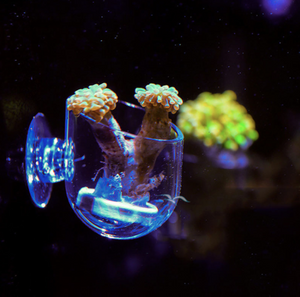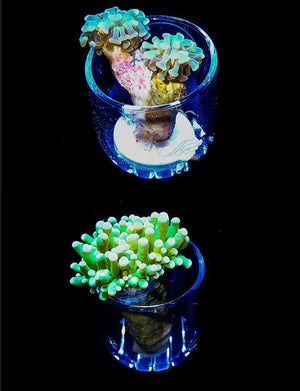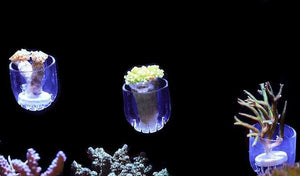 The Frag Pot
Designed and sold exclusively by Wet Aquatics, The Frag Pot allows you to house and grow out frags with out the need of consistently having to always buy frag plugs. 
The Frag pot can save you precious time once you have fraged your coral by allowing you to simply place the frag with in the pot without the need of having to glue it down. This allows you to easily remove it when it comes time to sell it or to glue down on your main aquarium aqua scape.
The Frag Pot also eliminates the fact and idea of using a frag rack that progressively causes your aquarium to have an "older and vintage" look to it. With these pots, you are able to simply place them on the glass or acrylic of your aquarium and instantly transform the look of your aquarium and make it look more modern. By eliminating the frag rack and using The Frag Pot, you are able to open up space in your aquarium, allowing you to house more types of corals, fish, and a possibly bigger center piece.
The Frag Pot also acts as a method of defense against other fish in your aquarium by preventing them from picking at it. 
Crafted out of clear crystal glass, The Frag Pot features one heavy duty suction cup to securely and firmly hold the pot in place on any glass or acrylic aquarium surface.
The Frag Pot also features slits at the bottom to allow for maximum water flow to pass through the frag.