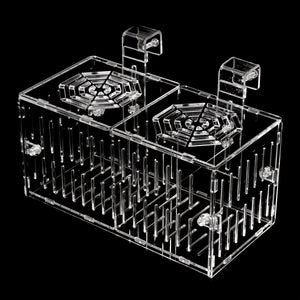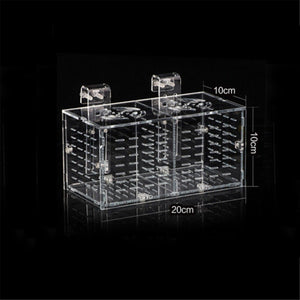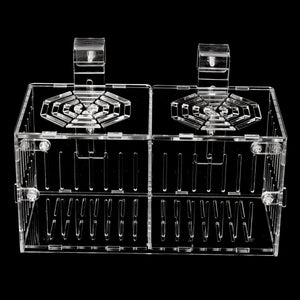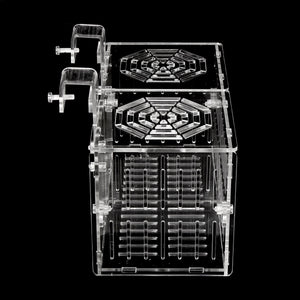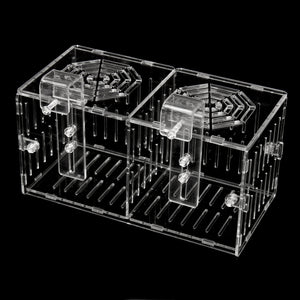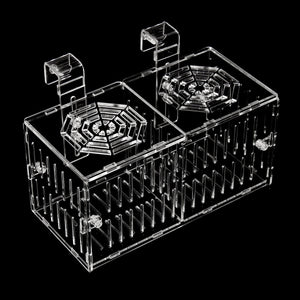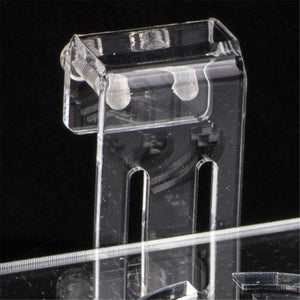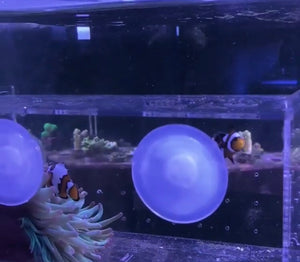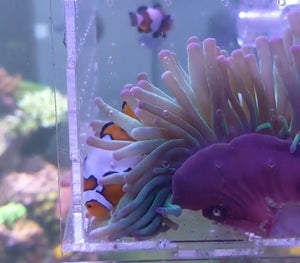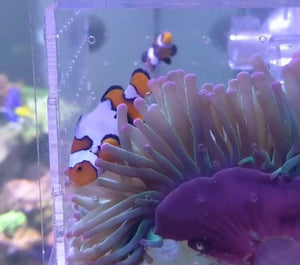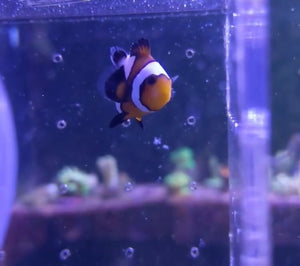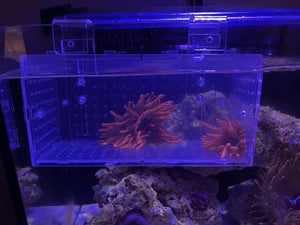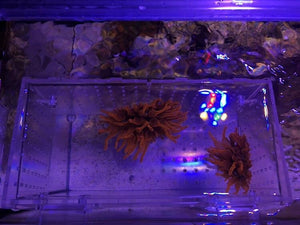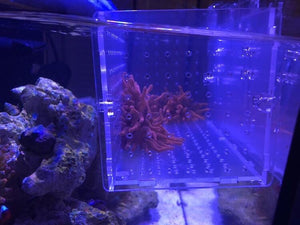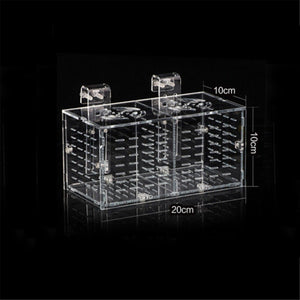 The Mariner Box PRO
Designed specifically by Wet Aquatics and found only here, The Mariner Box PRO allows you to keep any bullying fish in a contained area for a short period of time and it will help you to get clown fish to host anemones faster.
The Mariner Box PRO uses specially designed, hook design with a screw that allows you to essentially hang it of the side of your aquarium. Two built in screws allow you to firmly hold it in place as it allows you to tighten it to your own specification and to the thickness of the glass or acrylic of your aquarium. 
The Mariner Box PRO is is crafted out of acrylic and they don't get dirty easy. However if they do get dirty or filled with algae, they can be easily removed and cleaned with paper towel or a sponge. Regular aquarium maintenance and water changes will keep it spotless! 
The Mariner Box has numerous holes all over the box including the sides, lid, and bottom to allow for more water flow to pass through and provide your livestock with optimum water flow. 
The Mariner Box PRO will help you to get your clowns to host you anemones in a fast period of time. Fish feel most comfortable with some sort of structure near by. While there in The Mariner Box, they will have no cover to protect them selves with or to feel comfortable. However, if you add in your anemone, your clown will almost instantly begin to host it as the anemone will act as something to keep the clown comfortable. This can also work on other fish and other items you would like them to host.
The Mariner Box PRO is also a perfect solution to keeping fish that bully others in a secure location. Once you place your pesky fish in this, you can then decide what to do with it or even let it stay in there and release it after a few days if you feel it will no longer pick on your other live stock in your aquarium. This item also eliminates the need to setup a temporary tank or quarantine tank to house one fish as you can just place the fish in The Mariner Box PRO as mentioned before. 
This also has a secure lid at the top that will allow for easy access. This lid is also secure as in order to open it, you must push it forward and then upward. It also comes with two sections with a removable divider in the middle that allows you to house to separate fish at once.